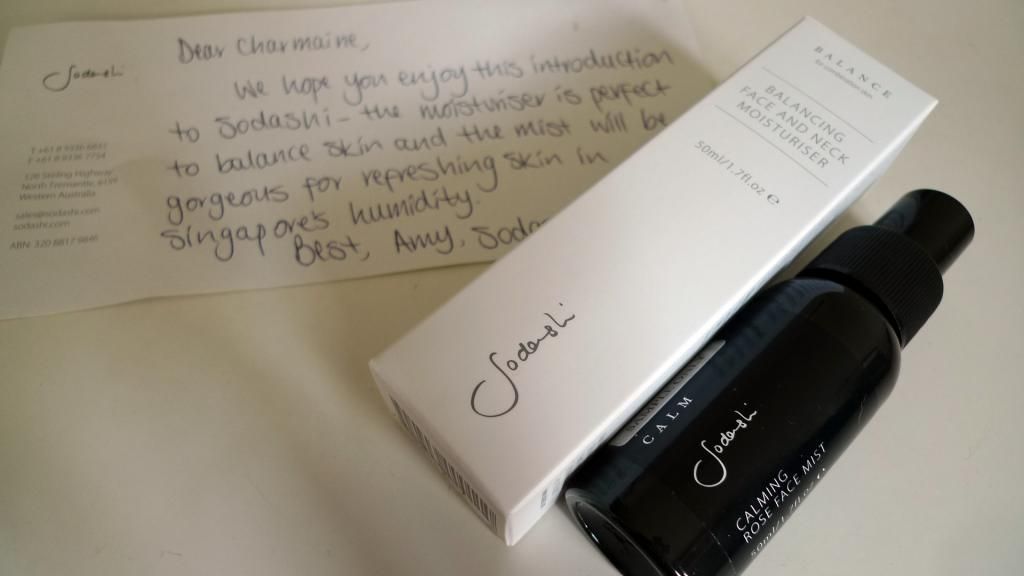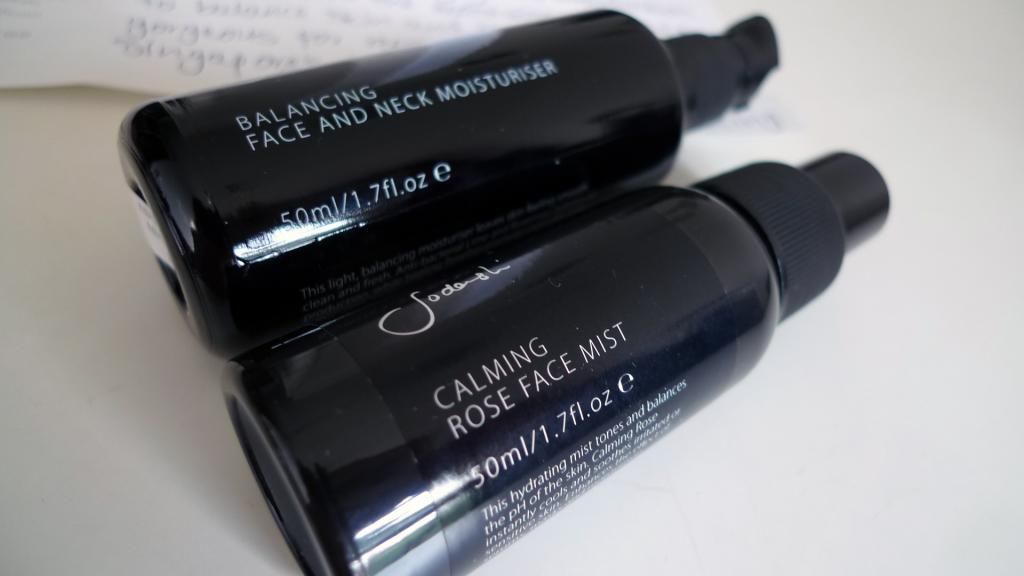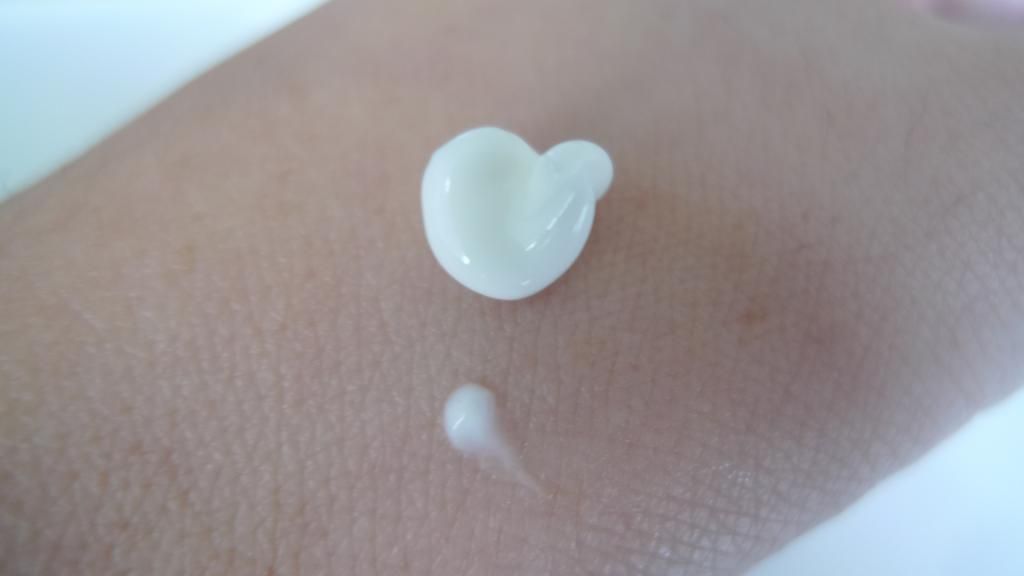 If you follow me on Instagram (
@charmystique
), you'll know I received two products from
Sodashi
to test two months back. I've been using the Calming Rose Face Mist and Balancing Face and Neck Moisturizer in my daily skincare routine during the day for awhile now, and I'm finally ready to talk about the results.
A Sanskrit word, Sodashi (such a beautiful name!) translates to wholeness, purity, and radiance. Founded by
Mergan Larsen
in 1999, Sodashi's product range works holistically to nurture the skin and enhance overall well being. I love that Sodashi stays true to their values across all areas of business--setting the bar high for natural skin care to produce effective, chemical-free products never tested on animals. All packaging is recyclable and printed using natural vegetable dyes. Products are made at Sodashi's own laboratory in Fremantle, Western Australia. If you ever have the opportunity of staying at a Four Season's hotel, take some time off to book a Sodashi treatment. Megan and her team train every single therapist employing Sodashi skincare so you can be sure you'll be in good hands.
Calming Rose Facial Mist
If you've read my previous review about
Heritage Store's Rosewater
you'll know about my obsession with anything rose scented, and
Sodashi's Calming Rose Facial Mis
t is no exception. Made for irritated, and sensitive skin, the calming and delicate properties of rose plant essence helped soothe any redness and skin inflammation. Vitamin E, which is a powerful antioxidant also helps with cellular skin repair. Grapefruit seed extract is said to have antimicrobial benefits by destroying the growth of microorganisms--including bacteria and fungi (main causes of acne and skin infections)--hence clearer skin is a spritz away! Aside from acting as an emulsifier, soy lecithin helps to soften and moisturize the skin thanks to high levels of oleic and linoleic acid. It also helps prepare the skin for any products to follow by altering the skin's structure, allowing better product penetration.
Even with my initial fear of ethanol drying out my skin, I have to say spritzing my face right after using my cleanser left it feeling soft and hydrated. The mist leaves your visage shrouded in a exquisite cloud of the most exotic smelling roses. I like to gently pat my face to waken my skin and encourage absorption. The only gripe I have with this mist is the spray nozzle--it comes out too concentrate a jet. I much prefer a finer mist which spreads the product all over my face and neck. However, it could be because I received a sample bottle and not the actual product. Otherwise, I think the Calming Rose Facial Mist is worth a try especially if you're just as enamored with a beautifully rose scented product as I am. A 100 ml bottle will set you back AUD77.20. Try not to be an obsessive sprayer and it will last you awhile.
Ingredients
Aqua (purified water), Rosa damascena (damask rose hydrosol), Alcohol (ethanol, pure cane spirit), Soy Lecithin, Tocopherol (Vitamin E), Citrus Grandis (grapefruit seed extract)
Balancing Face and Neck Moisturizer
Formulated for combination skin (oily T zone, dry cheeks anyone?), water based
Balancing Face and Neck Moisturizer
has a similar texture to a very light buttercream frosting, some how managing to be airy yet dense simultaneously. Containing jojoba oil (mimics your skin's natural oil activity), a mixture of nut and essential oils, not forgetting rosemary and lime, this effective moisturizer works to balance oil production while healing your skin. Additional benefit--this mixture of incredible ingredients smells absolutely uplifting!
Living on a tropical island has its benefits, we don't require a seasonal skincare routine. However I'm pretty sure there are plenty out there who struggle with keeping their oil-producing factories--otherwise known as oil glands--under control. I for one used to get an oil slick on my face faster than you can say grease monkey. Just a couple of hours after my morning cleanse and application of skincare products no less. Not a great look! That was before I started using Sodashi's Balancing Face and Neck Moisturizer as my only skincare product right after misting my face. Now, unless I'm constantly out in the hot sun running around or cooking in the kitchen, my face stays semi-matte.
This delicate product applies like a dream, absorbing almost instantly upon contact with your skin. It doesn't leave a tacky feeling and you can continue with sunscreen or makeup right after! The smell is so refreshing I find myself taking a moment to take a couple of deep breaths during application to awaken my senses. Perfect for those sleepy mornings... Just two pumps are sufficient to cover my face and neck. I love how smoothly the pump work and can't get over how cute the cap is, just like a removable helmut you can snap on and off. If you're looking for a non-comedogenic moisturizer that works to balance and hydrate your skin, I cannot recommend this product enough. The Balancing Face and Neck Moisturizer retails at AUD109.30 for a 50 ml bottle.
Ingredients
Aqua (purified water), Corylus avellana (hazelnut oil), Ceterayl alcohol (plant derived), Simmondsia chinensis (jojoba oil*), Macadamia integrifolia (macadamia oil) Prunus armeniaca (apricot kernel oil), Prunus dulcis (almond oil), Butyrospermum parkii (shea nut butter*), Rose rubiginosa (rosehip oil*), tocopherol (vitamin E), Citrus grandis (grapefruit seed extract), Citrus aurantifolia (lime*), Cymbopogon martinii (palmrosa*), Lavandula latifolia (lavender spike*), Cedrus atlantica (cedarwood*), Rosmarinus officinalis (rosemary*), Rosa damascena (damask rose).
* Organic
Overall, having tried their products and done my research it's hard not to fall in love with Sodashi as a brand. The luxe packaging, my favorite miron glass bottles, and the elegant cursive script just shows the thoughtfulness and detail going into the design of the products. I also appreciate that batch numbers are labelled on the bottom with expiry dates. It does give me peace of mind my product is fresh and not sitting at the back of a warehouse shelf for the past two years. I love how Megan makes it a point to mediate with her team every day, and is so passionate about treatment protocols she handpicks her team of trainers, who go on to uphold high standards in spas across the globe. It's so exhilarating to see someone tirelessly involved in every aspect of the business, and rightly so. Sodashi is on it's way to become recognized as THE chemical-free skincare brand offering the finest experience and results.
Seeing that there aren't a great many reviews online about Sodashi's products, here's hoping this one will inspire you to try out their amazing products. I already have the
Brightening Marine Mineral Mask
(I'm a hardcore mask addict!) and the
Samadara Ultimate Age-Defying Eye Creme
(never too early to start using anti-aging products) on my wishlist.
Have you tried any products from the Sodashi line? I'd love to hear your thoughts!
Disclosure: The above products were generously provided by Sodashi for review, I do not receive any compensation. The opinions expressed herein are mine and are not indicative of the opinions or positions of Sodashi.