I've always walked right past
Wrap & Roll
in favor of my favorite sushi haunt
Itacho Sushi
. Yep, absolutely guilty of being a creature of comfort, and Japanese is my go-to cuisine most days. However, after the food tasting I attended--again with a couple of other ION Insiders--I realized I've been missing out on some seriously good Vietnamese food! Thanks to Jacinta's (
Wrap & Roll's
young, capable manager) invitation, I now have a satisfying option whenever I'm craving Vietnamese in town.
Hailing from Ho Chi Minh, Wrap & Roll brings signature cuisine from the three different parts of Vietnam; Ho Chi Minh, Hue, and Hanoi to Singapore. Established in 2006, the contemporary Vietnamese casual dining concept has garnered numerous awards such as, "Top 100 Vietnamese Restaurant 2012" by Delicious Magazine and "Best Vietnamese Restaurant Chain 2010" by the Vietnam Tourism Board.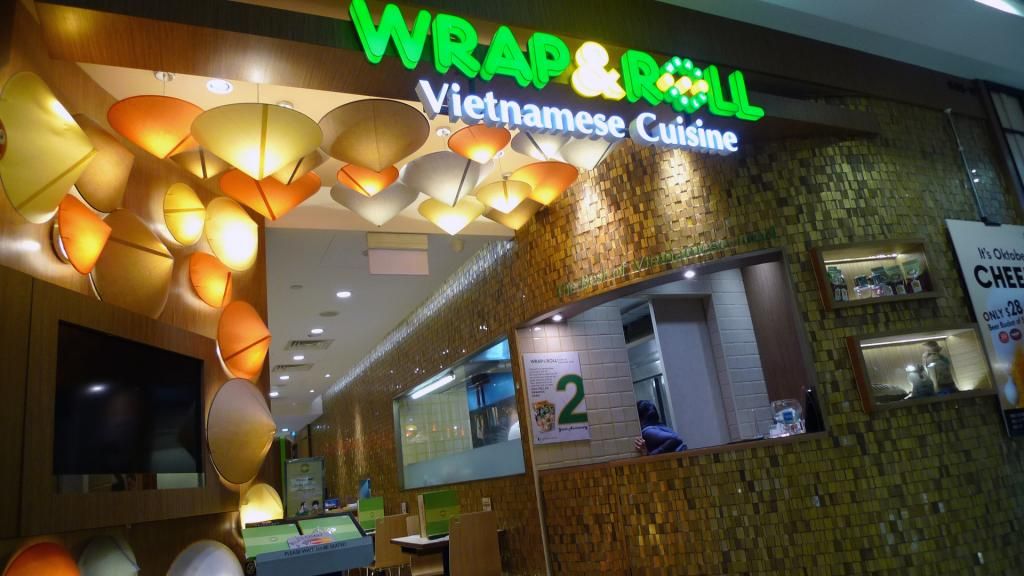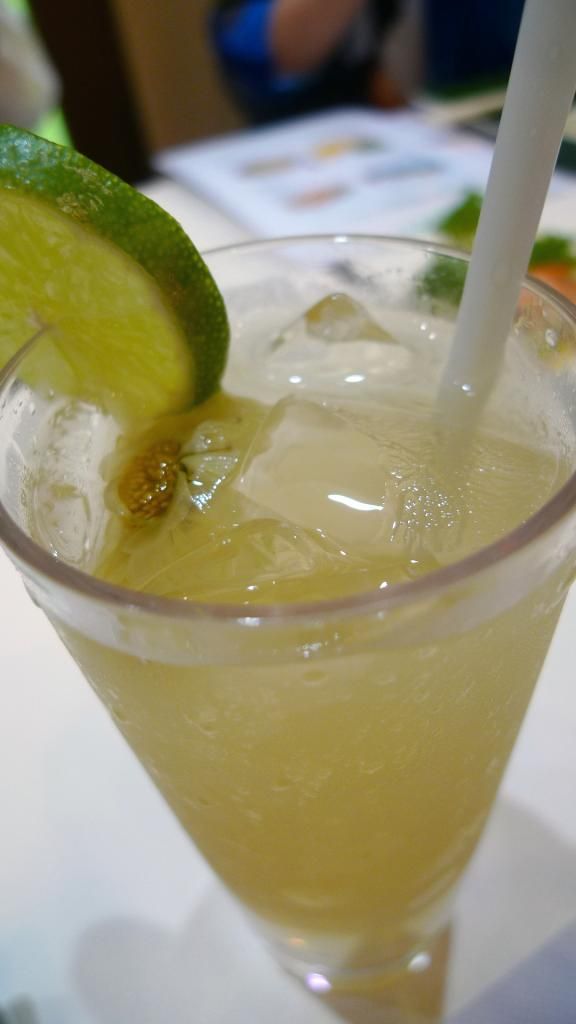 I love Chrysanthemum tea, so naturally I ordered the Vietnamese Chrysanthemum tea. Don't be fooled by its plain appearance, it packs a punch! You'll first recognize the familiar taste of Chrysanthemum tea, which slowly gives way to a sour plum like after taste. Very invigorating. I highly recommend.
Appetizers
Gỏi ngo sen (Lotus Shoot Salad)
Bánh ướt cuốn thịt nướng (Grilled Pork in Steamed Rice Paper Rolls)
Bánh cuốn nhân thịt (Minced Pork & Mushrooms Steamed Rice Crepe Rolls)
Bánh Xèo (Crispy Crepe with Prawns, Pork, Beansprouts & Mushrooms)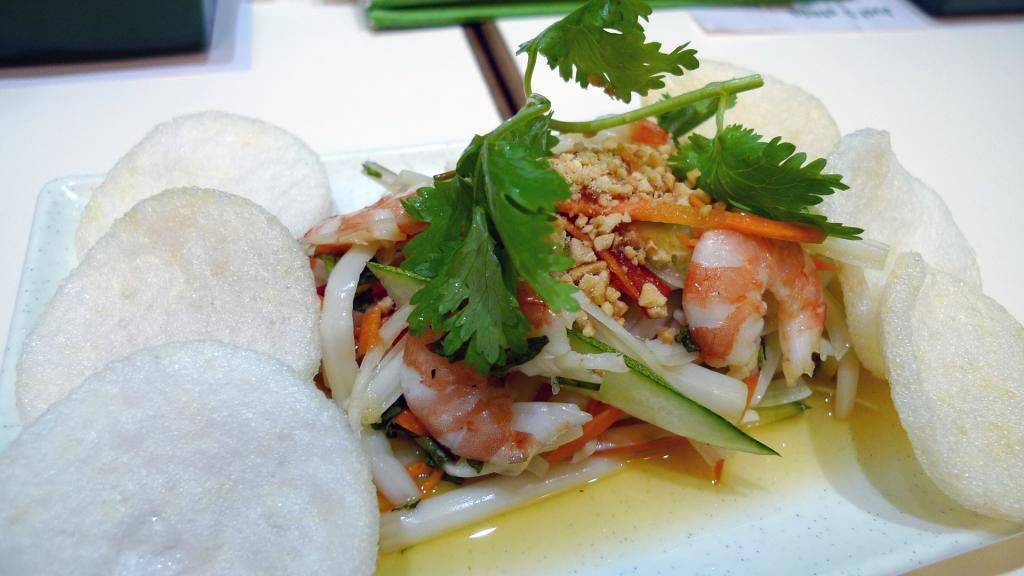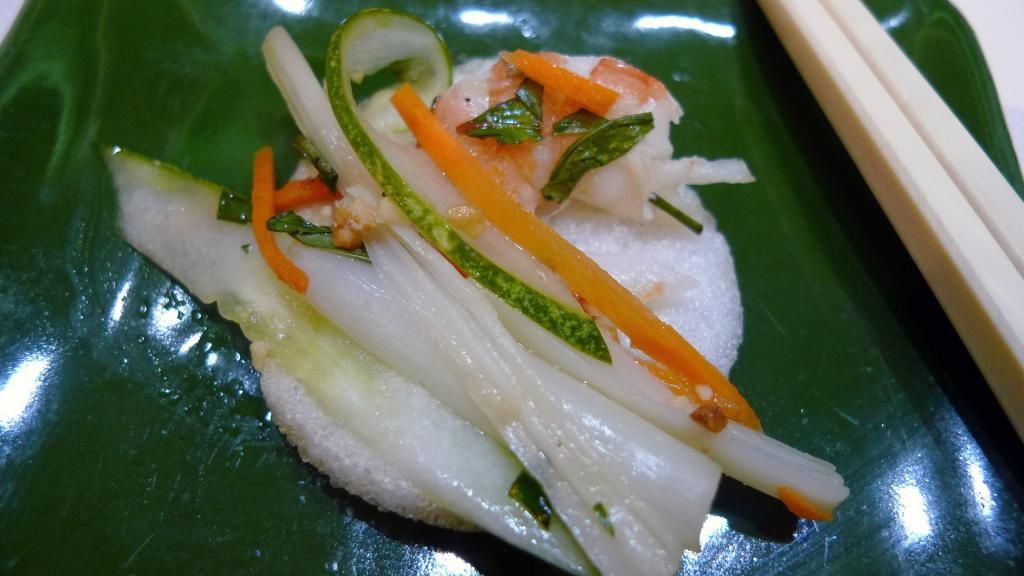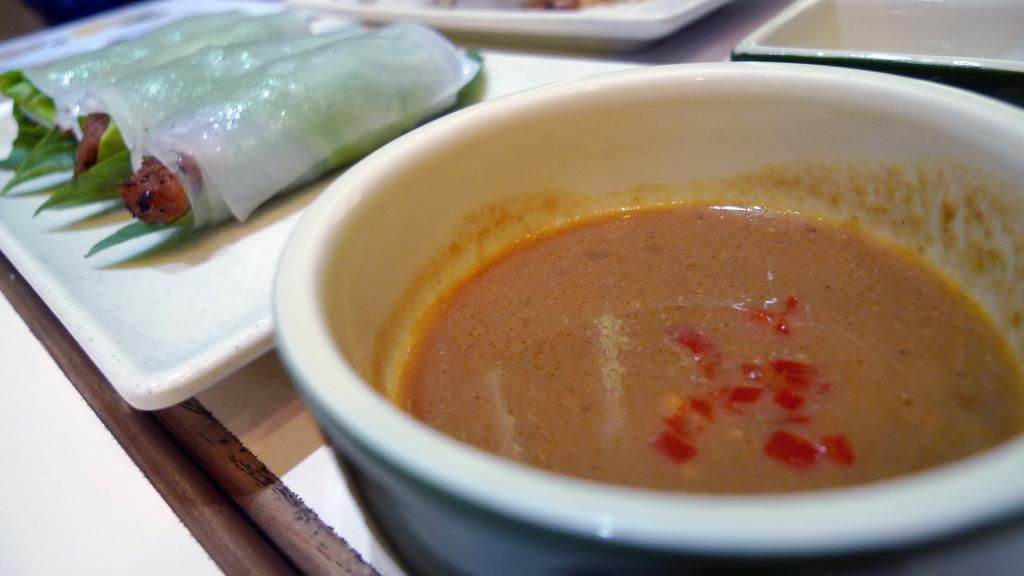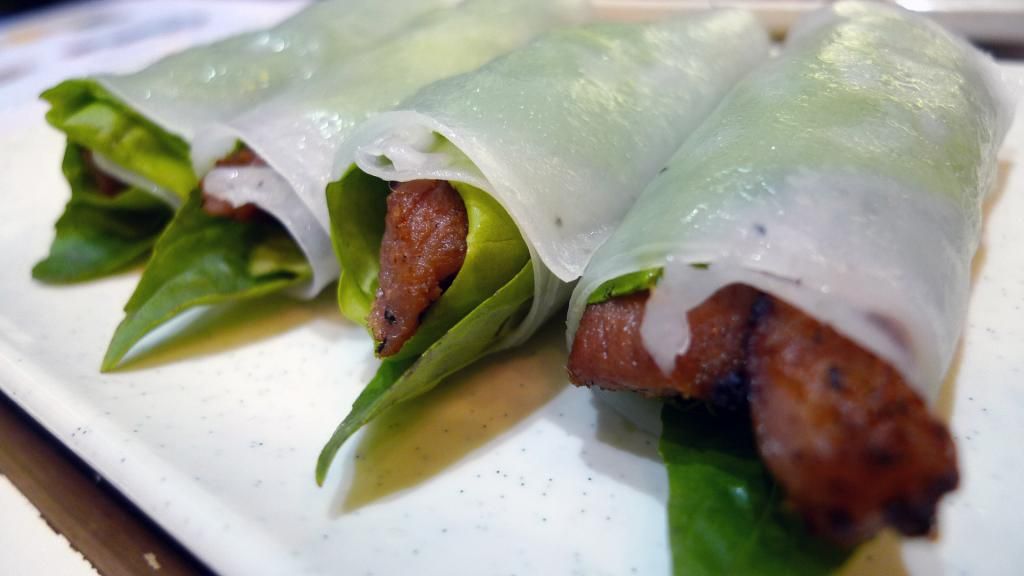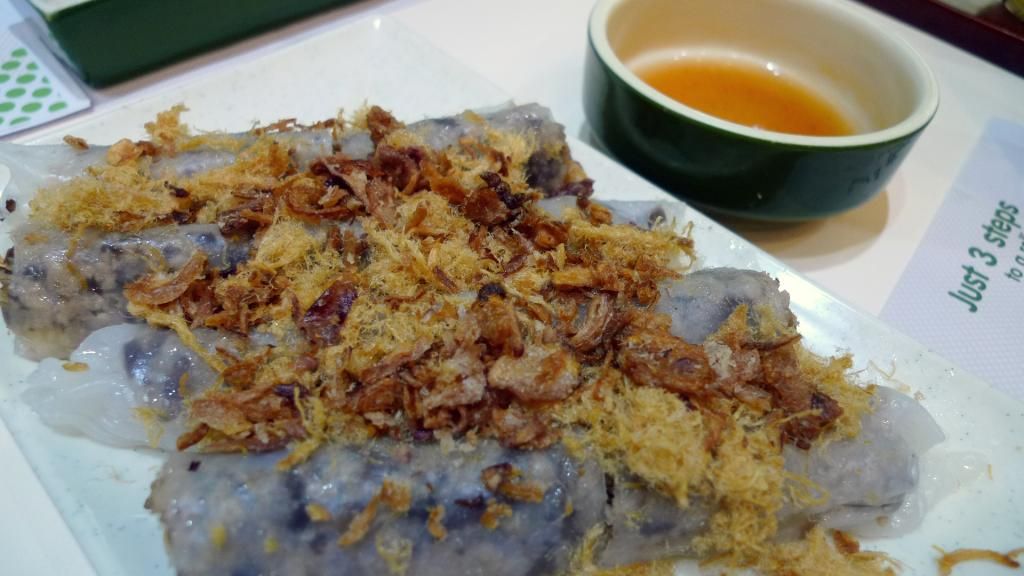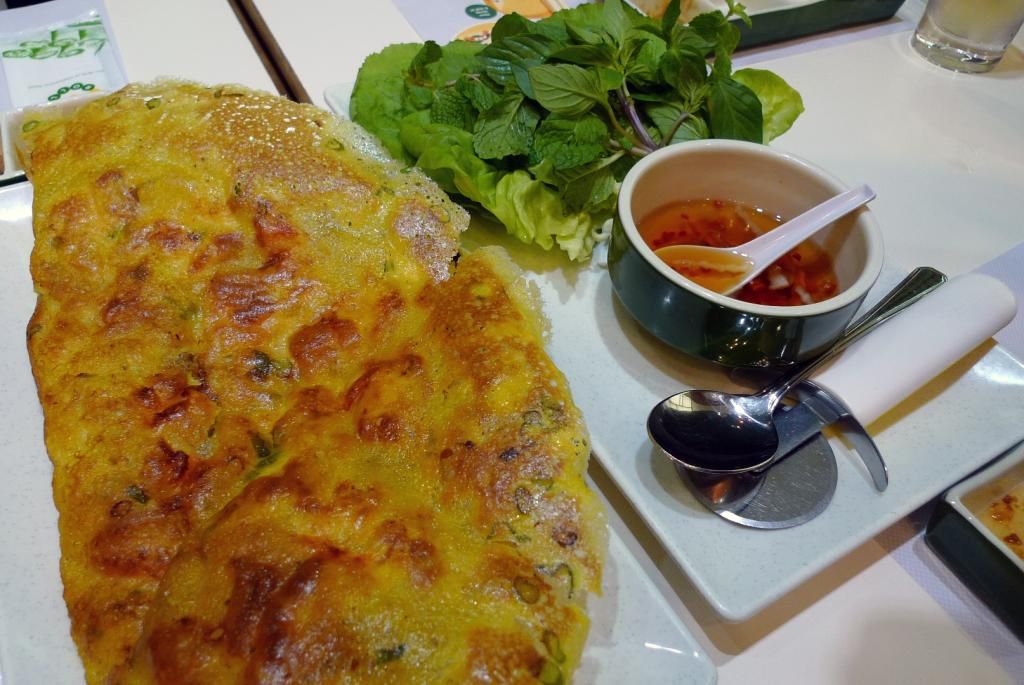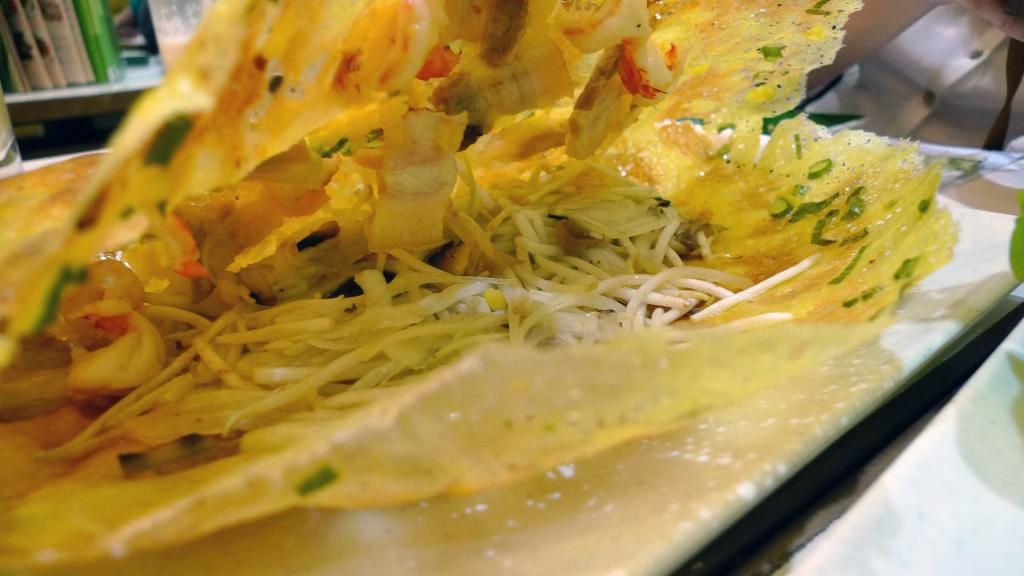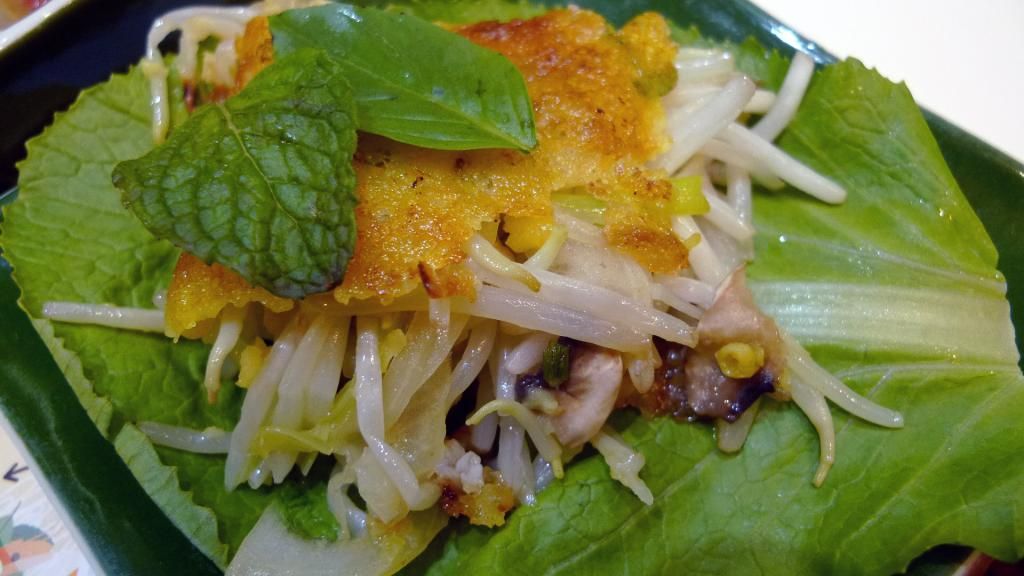 Rice & Noodles
Phở bò

(Pho Beef Noodle Soup)

Bún thịt nướng chả giò

(Rice Vermicelli with Grilled Pork & Deep Fried Spring Rolls)

Bún cá

(Vietnamese Fish Noodle Soup)

Phở xào hải sản

(Stir-fried Pho Noodles with Seafood)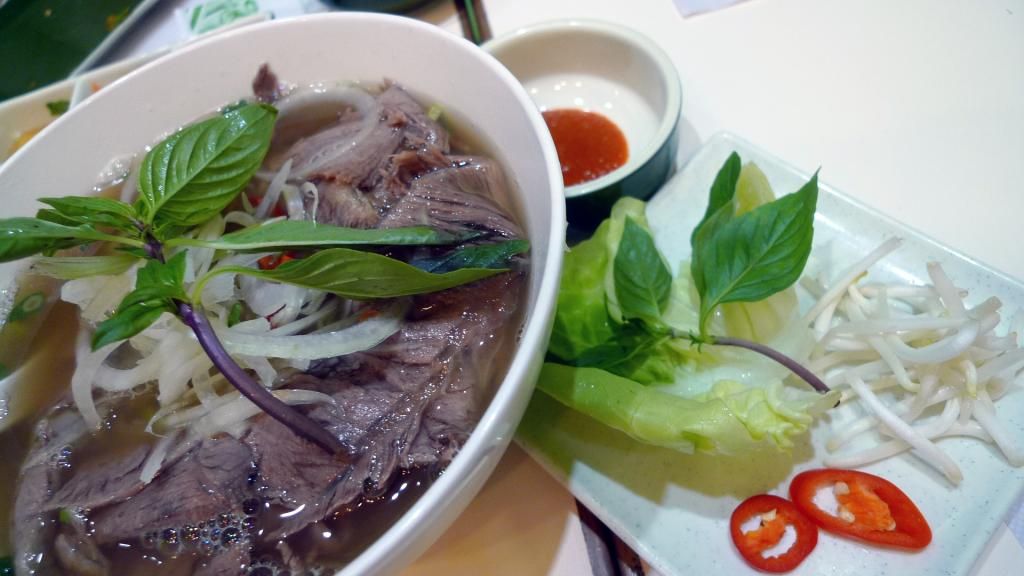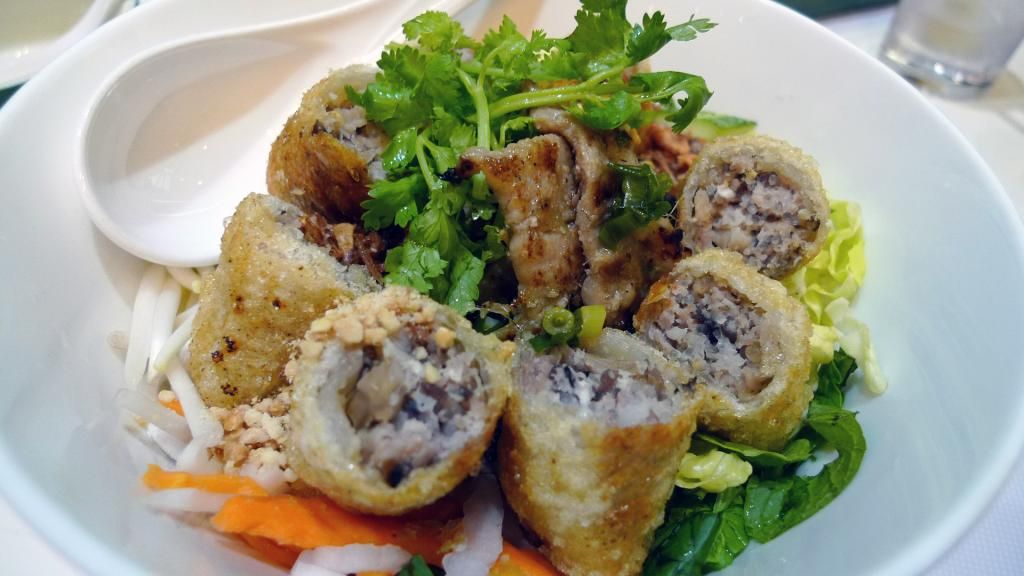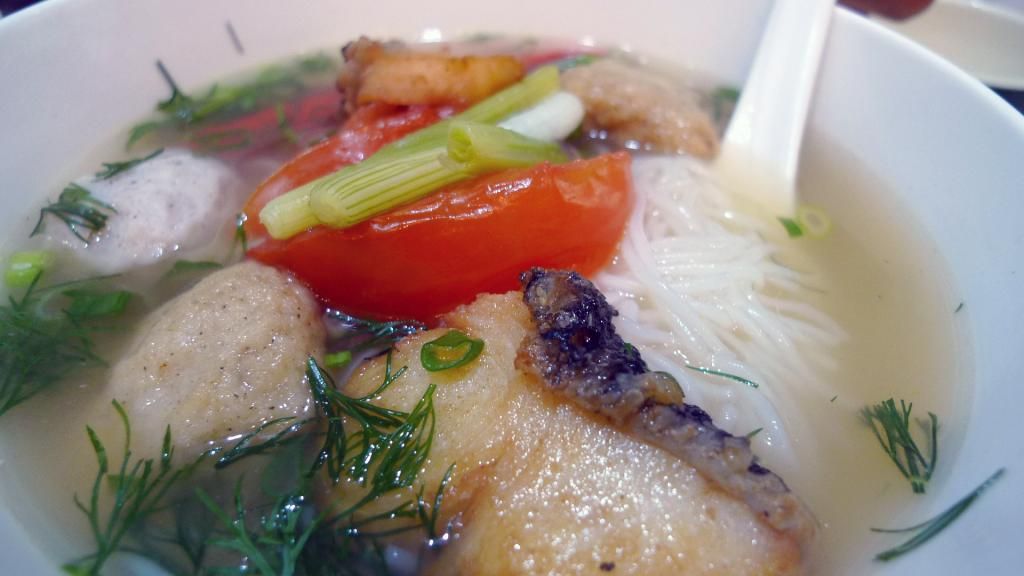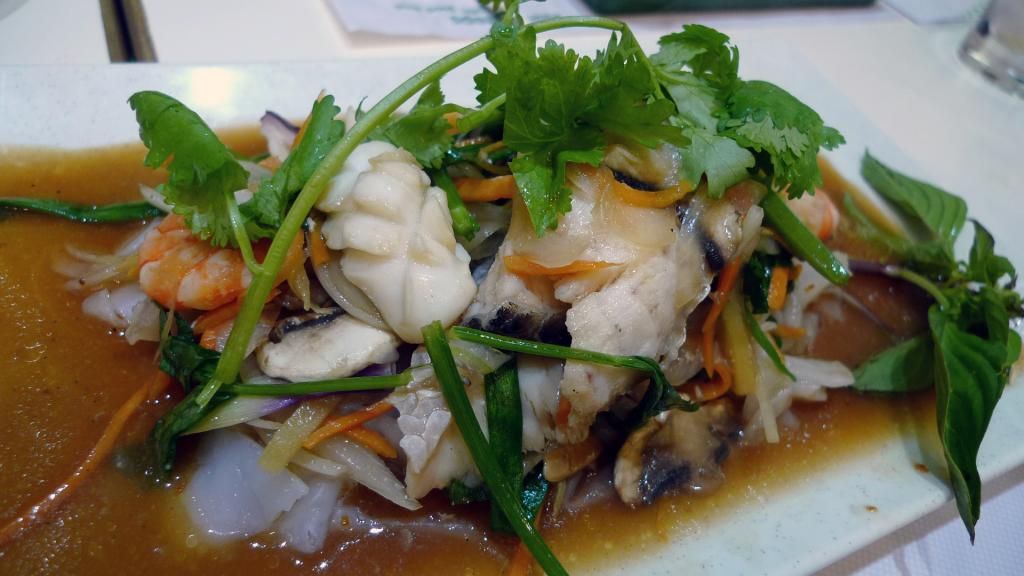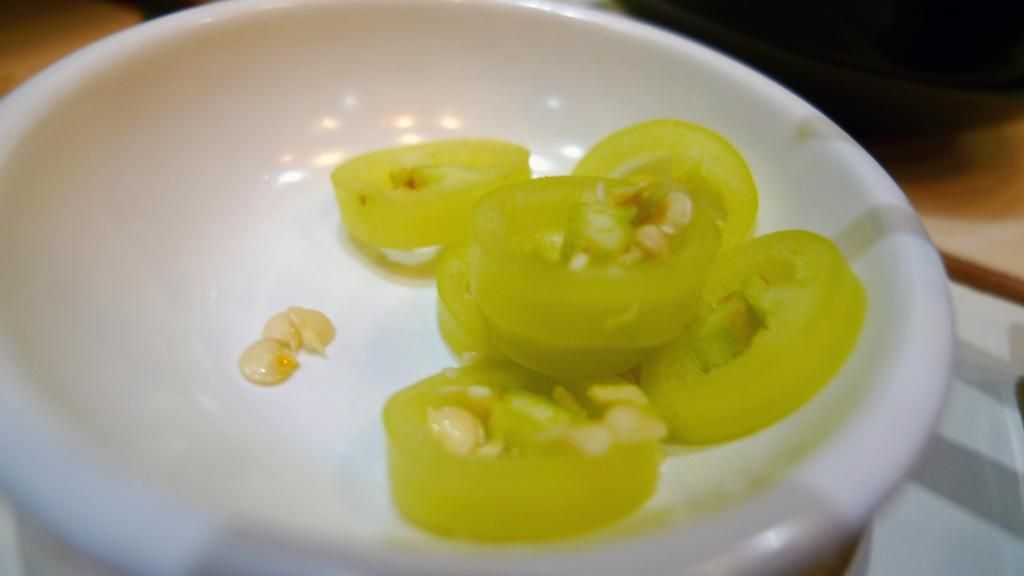 Dessert
Bánh fl an (Egg & Milk Flan Pudding with Vietnamese Coffee)
Rau câu dừa (Freshly-made Vietnamese Coconut Jelly)
Cà phê đá (Vietnamese drip coffee)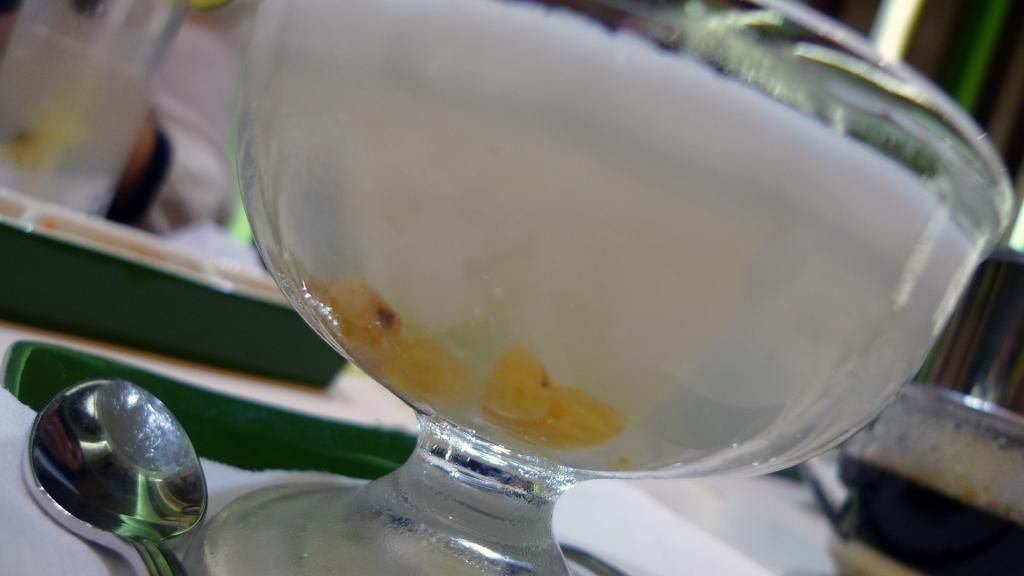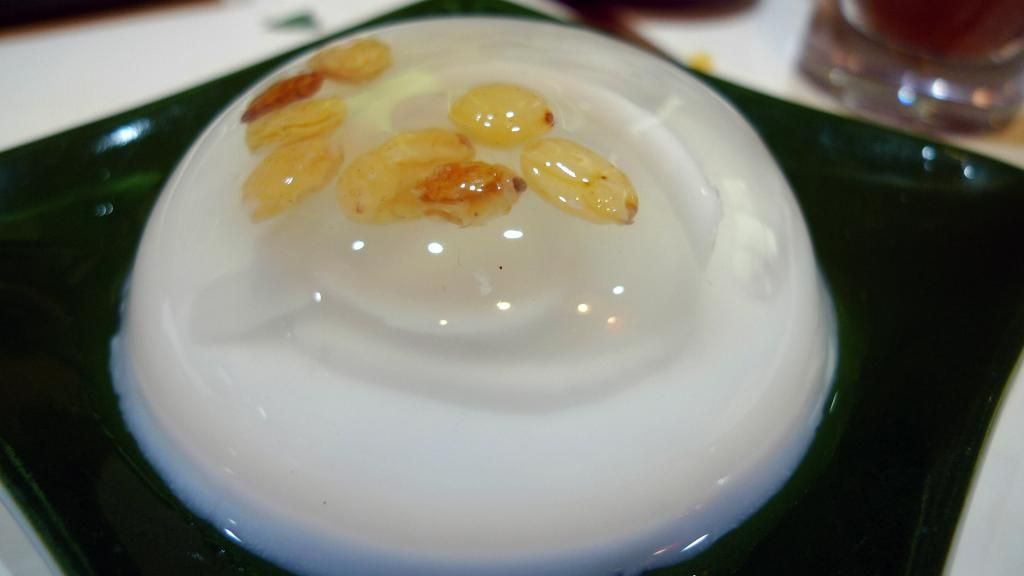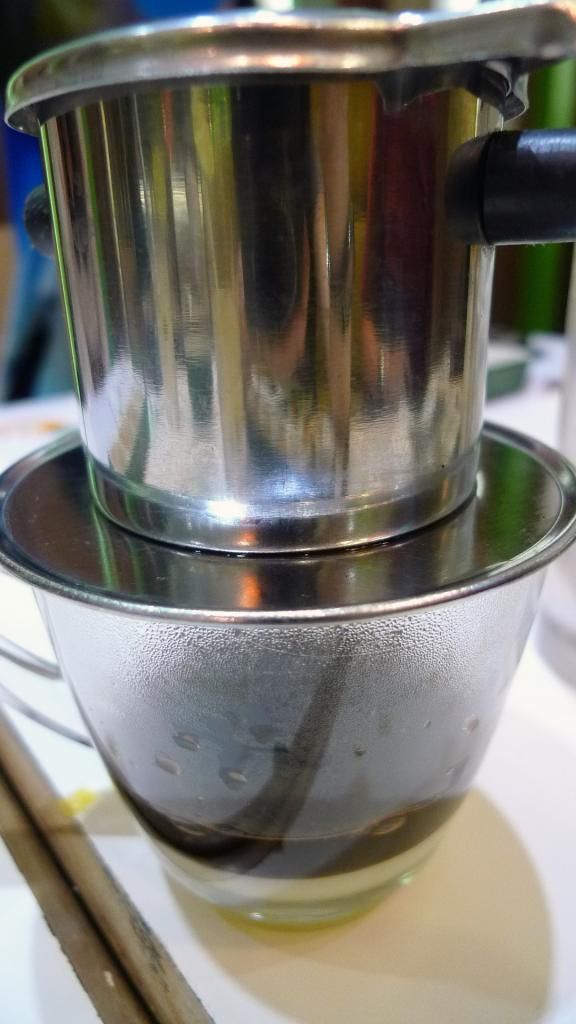 Let me be honest, I love Vietnamese food, especially Pho (a must order for me at every Vietnamese restaurant I visit!). However I've never really taken a liking to rice crepe rolls till I tried those available at Wrap & Roll. I guess it so happens that I've not tried a rice crepe roll that's worth space in my belly. So for me to say I really enjoyed every single dish during the tasting--especially the rice crepe rolls--is no small matter!
My personal favorites from Wrap & Roll:
Gỏi ngo sen (Lotus Shoot Salad)
To whet our appetite, we started with this yummy salad. The salad is dressed in fish sauce with generously sprinkled chopped peanuts and served on a piece of keropok. The lotus shoots, cucumber and carrots retain a good crunch, with the laksa leaves gives it a slightly tangy aftertaste! I really liked that the prawns tasted fresh and were de-veined. I could probably finish this light dish on my own, perfect for those who are health conscious.
Bánh ướt cuốn thịt nướng

(Grilled Pork in Steamed Rice Paper Rolls)
If I could describe this dish in one sentence, it'd be pork satay wrapped in chee cheong fun. The grilled pork is charred to perfection, and the mint and basil leaves really bring out it's full flavor! You'll probably want to order a second serving, because after tasting this, just four rolls aren't going to be enough.
Bánh cuốn nhân thịt (Minced Pork & Mushrooms Steamed Rice Crepe Rolls)
The soft, translucent texture of the rice crepe served as a sneak peek to the delicious goodies awaiting our tastebuds. A mixture of minced pork and fragrant black and white fungus is sealed within the rice crepe roll, with pork floss and shallots on top. Dipped in fish sauce, these rolls were really delectable! I wouldn't mind having this for breakfast every day.
Phở bò (Pho Beef Noodle Soup)
As I mentioned above, I really love Beef Pho. So it was with extremely high expectations that I tasted this dish. Wrap & Roll traditionally did not have Beef Pho on it's menu, but with many Singaporean customers requesting the dish, they've decided to add it to their menu earlier this year in May. And I'm so glad they did! The soup was just so tasty (thanks to star anise and cinnamon) without being overly salty, and the noodles which are imported from Vietnam are the smoothest I've tried. The slices of beef are insanely tender which I approve of, you don't want to be chewing away like a cow on cud on date night do you? To increase your enjoyment of this savory bowl of Pho, don't forget to squeeze in a few drops of lime, then add in the pickled black bean sauce and/or Sriracha sauce served alongside.
Rau câu dừa (Freshly-made Vietnamese Coconut Jelly)
I got really excited when I saw this dessert on the menu even before I found out we would be tasting this for the night. I love anything coconut, so I was definitely looking forward to digging into this cup of freshly-made Vietnamese Coconut Jelly. A thin layer of sweet young coconut flesh covers the naturally saccharine coconut jelly. So damn good. If you're sharing the dessert, don't forget to fight for the golden raisins buried right at the bottom!
Cà phê đá (Vietnamese drip coffee)
I don't typically take coffee because it makes my heart race, and I get super hyper and jumpy. But I made an exception to try the coffee since anyone would need a little help staying awake after a super heavy meal like the one we just consumed... Only kidding! Since I was in an adventurous mood, and everything I've tried so far was good, the coffee had to be too right? Once the coffee drip was done doing its thing, the dark brew together with a thick layer of condensed milk into a tall glass with ice, it was time to taste. Let me just say, for someone who isn't used to taking coffee, this went like an adrenaline shot straight to my head! Even though it was probably way too strong for me, it tasted exceedingly smooth, and not as bitter/acidic as typical coffee. I'm sure coffee connoisseurs would enjoy this thoroughly.
The above dishes spoke to me the most, but that's not to say the other dishes weren't any good. Want a Seafood Hor Fun equivalent? Consider the Phở xào hải sản (Stir-fried Pho Noodles with Seafood), nearly as good or even better than what you'll get from a zi char store. Ask for fresh Vietnamese chili (the fluorescent looking chili shown above) if you're like me, and you can't live without your spice. I believe the 'Roll-It-Yourself' dish, Bánh Xèo (Crispy Crepe with Prawns, Pork, Beansprouts & Mushrooms) also deserves a mention. Reminiscent of Indian Thosai, the crepe is actually made from turmeric powder and flour, not egg as we all first assumed. Inside the crispy yellow shell, a sautéed mixture of bean sprouts, mung beans, onions, mushrooms, prawns, and pork hide. Place a little of everything on a piece of mustard lettuce, add mint, basil, perilla, then roll. A quick bath in the dipping sauce, and pop it in your mouth.
All dishes are hand-made using imported Vietnamese ingredients (more than 50 percent), and in order to maintain the consistency and quality of the franchise recipe in Vietnam, local chefs are flown there for training. Aside from the outlet at ION Orchard, Wrap & Roll is also available at The Star Vista or One@KentRidge. Another outlet is due to open at Changi City Point come January 2015.
Have you dined at Wrap & Roll before? I'd love to know your thoughts and what your favorite dishes are!
Wrap & Roll
is located at:
2 Orchard Turn
ION Orchard, #B3-19
Singapore 238801
Tel: (65) 6509 1555